PornHub, the world's largest porn website, releases its analytics report every year that reveals how its users are engaging with the website. It turns out that for the past three consecutive years, the most popular search term on PornHub has been "lesbian".
Watching girl-on-girl action is popular among both men and women, more so in women than in men.
The website doesn't reveal how many actual lesbian women are watching these clips but since lesbians typically comprise a very small percentage of any population, it's clear that a lot of straight women are watching lesbian porn.
Why is lesbian porn so appealing to straight women?
Women get turned on differently
A lot of straight porn is targeted toward heterosexual males since they're the largest consumers of porn. This type of porn, however, often ignores what straight women are turned on by, while solely focusing on what gets straight men off.
While men tend to be visually stimulated and are eager to watch the good old in-out action, women are turned on by touch, sensuality, intimacy, chemistry, and emotional connection. These ingredients are rare in most porn where a guy meets girl and the next thing you know, they're already moaning and breathing heavily- a total non-sequitur.
Lesbian porn comes to the rescue by focusing more on what women want. These clips tend to be longer, with extended foreplays, lots of touching and caressing, and sensuality. They also tend to have a narrative component to them that is oft-lacking in straight porn.
Add to this the fact that only about 25% of women achieve orgasm during the act of sexual intercourse. This statistic was pulled up from a comprehensive analysis of 33 studies over the past 80 years.1
This means that women are more likely to achieve orgasm via clitoral stimulation. No wonder lesbian porn clips devote large chunks of time to things like cunnilingus and tribbing.
Another interesting study done in Finland showed that a woman's ability to orgasm depends, among other things, on the quality of her relationship with her sexual partner.2
As the authors note, "A relationship that felt good and worked emotionally, and where sex was approached openly and appreciatively, promoted orgasms."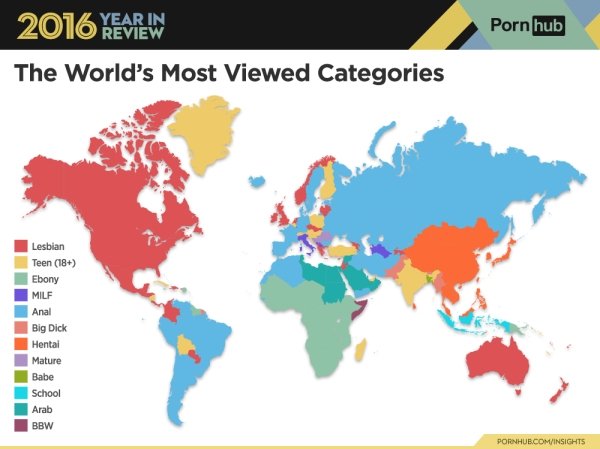 Why men like lesbian porn
Males are more into direct sexual acts with stepmoms, MILFs, stepsisters, and teens, so the PornHub's data reveals. But "lesbian" is also a popular search term among men.
What accounts for the high popularity of lesbian acts among men?
For starters, men are more visually aroused than women. A young, beautiful, and seductive female displaying her beauty is enough to turn a male on. When there are two such women instead of one, the visual arousal multiplies.
Lesbian clips also satiate men's desire for novelty and numbers with regards to their sexual partners. The Coolidge effect in evolutionary biology states that males are aroused when they get a chance to copulate with new females.
In lesbian porn, men can imagine themselves having sex with two beautiful women instead of just one. Identification is very important when it comes to the popularity of porn clips. If people can't identify with one of the actors on screen, they may not wholly enjoy their porn-viewing experience.
It's the same identification process that happens when you're watching a regular movie where you identify with the main actor.
Since you've put yourself in the feet of that actor mentally, you also experience the emotions they experience. You feel good when they feel good, sad when they feel sad, worry for them when they're in trouble, and rejoice in their victories.
With lesbian porn, men can alternate between identifying with either of the two women and therefore multiply and reinforce their arousal.
Compare this with straight porn where men find it hard to identify with the main guy. They want to put themselves in his feet but it's difficult because they know that it's another male with a different face.
This interferes with their identification process and the emotions they're supposed to experience are somewhat dampened.
This is why many porn makers avoid showing the face of the male actor while filming straight porn, while a voluptuous female fondles his disembodied phallus.
References
Lloyd, E. A. (2009). The case of the female orgasm: Bias in the science of evolution. Harvard University Press.
Kontula, O., & Miettinen, A. (2016). Determinants of female sexual orgasms. Socioaffective neuroscience & psychology, 6(1), 31624.
Hi, I'm Hanan Parvez (MBA, MA Psychology), founder and author of PsychMechanics. I've published one book and authored 400+ articles on this blog (started in 2014) that have garnered over 4.5 million views. PsychMechanics has been featured in Forbes, Business Insider, Reader's Digest, and Entrepreneur. Feel free to contact me if you have a query.