Welcome to PsychMechanics
Get started learning about the nuts and bolts of human psychology.
Browse categories
| | |
| --- | --- |
| Category | Description |
| Psychology concepts | Learn about some of the basic concepts of human psychology. Understanding these concepts will lay a strong foundation for you to further explore human behavior. |
| Learning body language | Understand the meaning of different body language gestures, facial expressions, and micro-expressions. Become a nonverbal communication expert. |
| Evolutionary psychology | Explore the evolutionary roots of human behavior. Learn about the stone-age era psychological mechanisms that govern our modern-day behavior. |
| Understanding emotions | Learn what emotions and moods are and why we get them. Learn how to handle your emotions without suppressing or ignoring them. |
| Psychological phenomena | Read about and understand the various psychological phenomena you observe in your day-to-day life. Get answers to common curiosities about everyday behavior. |
| Tips and techniques | Learn how to use the knowledge of psychology to deal with your negative moods and emotions, feel good, be productive, handle people well, and reach your goals. |
| Understanding dreams | Explore the fascinating world of dreams and the possible meanings behind them. Learn how to remember your dreams and get good at interpreting them. |
| Understanding personality | Explore what makes people who they are and what drives them to behave in the ways they do. In doing so, gain a superior self-understanding as well. |
| Psychological tests | Take some of the most reliable tests in psychology to understand yourself better. The tests are free to take with instant results, no personal information collection, and no hidden charges. |
Test your nonverbal communication skills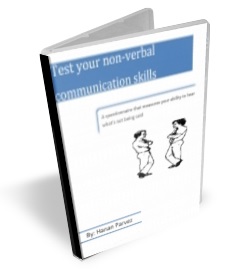 Subscribe to download a pictures-based questionnaire that tests your current skill level in nonverbal communication.
Featured In