Psychopathy is a highly debated topic in the field of psychology. There are theories upon theories trying to explain psychopathic behavior.
People are fascinated by psychopaths. They like watching movies and reading books, articles, and news items about psychopaths.
But who are these psychopaths? More importantly, why are they the way they are?
A psychopath is a person who lacks empathy, emotions, and the ability to genuinely bond with others. They tend to be selfish, power-hungry, aggressive, and violent. Other traits commonly displayed by psychopaths include:
Superficial charm
Lack of remorse
Narcissism
Fearlessness
Dominance
Calmness
Manipulative
Deceitful
Callousness
Lack of concern for others
Impulsive and irresponsible
Low self-control
Disregard for authority
Psychopaths lack both positive and negative emotions. They're deprived of the joy ordinary people feel in social connections. At the same time, they're less fearful, stressed, and anxious than ordinary people.
This enables them to take risks that ordinary people wouldn't dream of taking. Psychopaths genuinely don't care what others think.
Why are there psychopaths?
Psychopathy is best understood as a trait on one end of the psychopathy-empathy spectrum: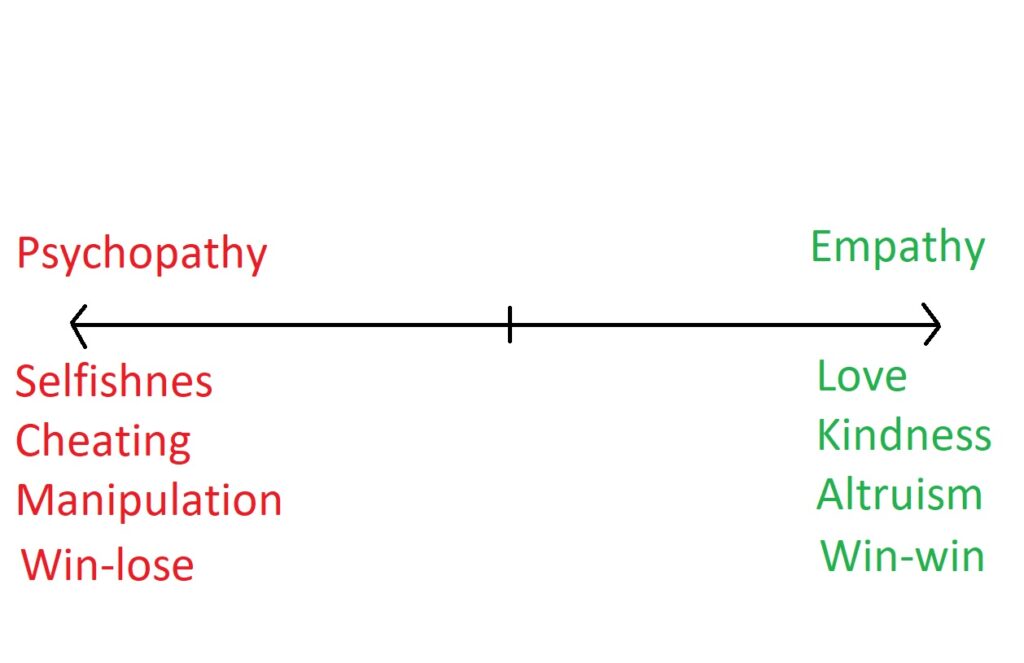 Selfishness is deeply ingrained in the human mind. It's more primitive than empathy. Empathy evolved in mammals for group living, whereas selfishness is a fundamental survival trait of every living thing.
It's possible that at one stage of human evolution, psychopathy was more common. As human groups increased in size and civilizations emerged, group living became more important.
Psychopathy had to be balanced with empathy. Most people who are not full-blown psychopaths do show psychopathic tendencies. They lie in the middle of the spectrum.
The costs of being a full-blown psychopath are too high in group living. So, evolution pushed full-blown psychopaths to the corner, and they now comprise only about 1-5% of the population.
Most psychopaths are men
A convincing theory of why there are more male psychopaths is that psychopathic traits can give men a reproductive advantage.1
Women generally prefer high-status, powerful, and resourceful men.
Psychopathy, or being selfish at the expense of others, can push men to seek power, status, and resources. So can fearlessness and risk-taking.2
This is why psychopathic men often get caught in frauds and scams. Women also commit fraud, but not nearly as frequently as men do.3
The reproductive strategy of psychopathic men is 'short-term mating'. They tend to be promiscuous and seek to impregnate as many women as possible without investing resources in any one of them.4
Because they don't feel love, they're primarily driven by lust.
If they fail to reach a high status in society through deceit and manipulation, psychopathic men can still fake the traits they know women find attractive such as charm, status, and power.
Weird things psychopaths do
Let's look at some of the weird things psychopaths do to have their way:
1. They think a lot before they speak
Since psychopaths don't naturally connect with others, they have to be extra careful during social interactions. They measure everything they say. It makes them seem a bit distant and 'in their head'.
They overthink before speaking because they mainly carry out their deception and manipulation through their speech. They come across as cold and calculating because it takes time to formulate the right thing to say.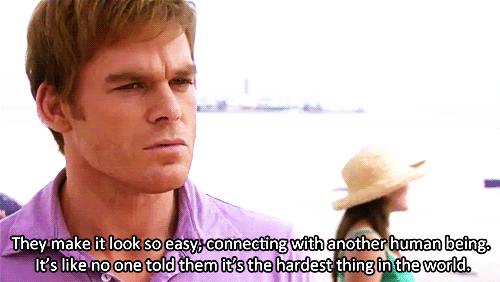 2. Their body language is flat
Since psychopaths are unemotional and only experience shallow emotions, they cannot express feelings in social interactions. Expressing emotions is a big part of connecting with people, and we do it mainly via nonverbal communication.
Psychopaths hardly use any nonverbal communication. They barely show facial expressions and body language gestures. When they do, it's probably fake so they can blend in.
Psychopaths often give others a fake smile. Most of the time, they'll be staring at their targets, sizing up their prey. Hence the term 'psychopathic stare'.
If you stare too long at someone, you're likely going to creep them out, and they'll say something like:
"Stop staring at me like a psychopath!"
3. They use charm to deceive
Psychopaths use their superficial charm to draw people in to manipulate them. They use flattery and tell people what the latter want to hear.
4. They use people
They see people as tools to be used for their selfish ends. Instead of entering mutually beneficial win-win relationships, they seek win-lose relationships where they're the ones who win.
5. They're disloyal
A psychopath will only be loyal to you for as long as they can use you. When they get what they want from you, they'll drop you like a hot potato.
6. They're pathological liars
Psychopaths tend to be pathological liars. Unlike most people who can be easily caught when they lie because they have emotions, psychopaths can lie like it's no big deal.
7. They can fake anything
Psychopaths know they don't fit in. They also know what they need to do to fit in. Their niceness is a mask they've deliberately put on. They tend to be excellent actors and can mold themselves to the requirements of a situation, like a chameleon.
They can even fake empathy and love.5
8. They gaslight
Psychopaths can drive people crazy by making them question their reality and sanity. Known as gaslighting, it's a severe form of emotional abuse.
9. They love-bomb
Psychopaths will shower a potential partner with love and affection in a relatively short amount of time. Many women who like hearing nice things about themselves easily fall into this love-bombing trap.
Smarter women can sense something is off and will take a step back.
They'll be your fake soulmate for as long as they can get what they want from you. When they do, the love-bombing will cease, and the cruelty will begin.
10. They're obsessed with their basic needs
The more selfish a person is, the more obsessed they are with their basic needs. If you recall Maslow's hierarchy of needs pyramid, the bottom of the pyramid represents our basic needs like food, safety, and sex.
Social needs are higher up on the pyramid. Since psychopaths can't connect with others, they don't care much for social needs. Their attention is geared more toward satisfying basic needs.
They'll talk about food constantly, eat like a glutton, and find it hard to share.
Their behavior with food is similar to a predatory animal that just caught its prey. Instead of paying attention to what's going on around them, they take their prey to one corner and eat like there's no tomorrow.
11. They exploit kind people
Kind and empathic people are easy targets for psychopaths. They're wary of other psychopaths who can see right through them but needn't worry about kind people.
12. They're calm when they shouldn't be
We all admire calm and collected people, but there are times when the most relaxed people on earth lose it and succumb to their emotions. Psychopaths are calm even when you expect them to be worried sick.
You're like:
"How can this not affect him?"
References
Brazil, K. J., & Forth, A. E. (2020). Psychopathy and the induction of desire: Formulating and testing an evolutionary hypothesis. Evolutionary Psychological Science, 6(1), 64-81.
Glenn, A. L., Efferson, L. M., Iyer, R., & Graham, J. (2017). Values, goals, and motivations associated with psychopathy. Journal of social and clinical psychology, 36(2), 108-125.
Bales, K., & Fox, T. L. (2011). Evaluating a trend analysis of fraud factors. Journal of Finance and Accountancy, 5, 1.
Leedom, L. J., Geslien, E., & Hartoonnian Almas, L. (2012). " Did he ever love me?" A qualitative study of life with a psychopathic husband. Family and intimate partner violence quarterly, 5(2), 103-135.
Ellis, L. (2005). A theory explaining biological correlates of criminality. European Journal of Criminology, 2(3), 287-315.